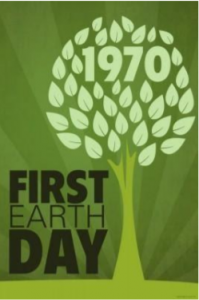 The first Earth Day was founded by Gaylord Nelson after he witnessed the massive oil spill in
Santa Barbara California in 1969. The day was designed to be a national event to focus on the
environment. On April 22, 1970, 20 million Americans – at the time, 10% of the total
population of the United States – took to the streets, parks, and auditoriums to demonstrate
for a healthy, sustainable environment in massive coast – to – coast rallies. Earth Day 1990
took this further with a huge boost to recycling efforts worldwide and helped pave the way for
the 1992 United Nations Earth Summit in Rio de Janeiro. (source: earthday.org)
While there were many exciting plans across the globe for the 50th anniversary on April 22,
2020, we couldn't celebrate as a global community. We couldn't even do the usual April
activities and fairs that focus on environmental education and volunteerism either. But do not
fret, there are many ways you can support a more sustainable lifestyle. And better yet, all of
these can (and should) be done throughout the year. We've put together some quick tips of
easy, environmentally conscious actions YOU can do for OUR environment today, and every
day.
Update Your Daily Routines
Earth 911 has some ideas for how you can keep the Earth Day momentum going with simple,
environmentally friendly tweaks to your daily routine at home, at the store, in the bathroom
and on the go. Simply unplug electronics, go paperless with billing and statements, start
composting food scraps at home, buy locally harvested fruits and vegetables, use your own
bags whenever shopping – not just at the grocery store, and reduce water usage with shorter
showers, low flow faucets and fixing drips. I'm sure you've all heard these terms before, and
recognize that they aren't difficult to do, but the impact these small steps have is
significant. Visit below for specifics.
Make Less Trash
When you hear the term 'zero waste lifestyle' it immediately becomes overwhelming. But the
term isn't all or nothing, it's about becoming more aware and more intentional about how
products are designed, where they come from, and ultimately what happens to them when we
are done using them. As a consumer, you hold a great deal of power. Just think about it in
terms of using your purchasing power to influence manufacturers into more responsible
design. This also includes eliminating single use/disposable products in favor of those that are
reusable. More and more shops are allowing consumers to purchase products in reusable
containers, and selling beauty products in bulk so that you can put them in your own
dispenser. (source Earth911.org)
Clean Out and Up for Good
With time on our hands, many people are taking advantage of it and doing some major cleanup and organization projects. This is great for the house and the soul! It can be good for the
environment if you pay attention to how and what you're moving out of the house. Thrift
shops are always an option but many may not be open at the moment, so items that would
normally go here may need to be held on to a bit longer. Here is an article to help you
out:
Footwear can have many different lives.
Sneakers of any brand that have finished their last use can be recycled by dropping
them into a Nike Reuse a Shoe bin and be turned into Nike Grind. They'll become part
of basketball courts, playground surfaces, running tracks and more. Learn more and
find a box near you:
Shoes that no longer fit or no longer fit your style can be donated to Souls4Souls and,
after being cleaned up, used to help others in developing nations. Find a drop off
location near you or learn more about this non-profit:
If you have a variety of children's items, home goods, books, exercise equipment and small
furniture pieces, you can put that to good use for our Vietnam Veterans. Pickup Please enables you to learn more about the program and schedule an at home pickup at your convenience.
Unused craft supplies can be donated to your local school, after school program, religious
organization, women's shelters, scouting organization or children's hospitals. Contact those in
your neighborhood to arrange delivery or get a better understanding of what they can use.
Upcycle items that are no longer of use
While we go through our homes and storage areas, we all find things that have become
obsolete or outgrown over the course of time. Don't put these items in the landfill OR donate
them, turn them into something you can use! Used bicycle helmets can become hanging
planters. Old ladders become shelving units, tin cans become lamp shades, folding chairs
become closet organizers, bottles into lighting fixtures, corks and K-cups become seed pods and
so much more.


Be creative, be adventurous, and be sustainable.
So while you're making sustainable choices in your life, don't forget to enjoy nature. The
Icelandic Forestry Service suggests that you hug a tree. Larissa Kyzer reports in Iceland Review
that the service is encouraging people to cuddle up to a tree while social distancing is keeping
loved ones out of arm's reach.
"When you hug [a tree], you feel it first in your toes and then up your legs and into your chest
and then up into your head," forest ranger Þór Þorfinnsson tells the Icelandic National
Broadcasting Service (RÚV). "It's such a wonderful feeling of relaxation and then you're ready
for a new day and new challenges."
I personally know this is true!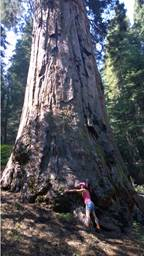 Deena Roberts
Share: