EarthShare New Jersey
Green Day Challenge

April 9, 2021 & April 30, 2021
Are you up for the challenge?
EarthShare New Jersey (ESNJ) is hosting the 5th annual Green Day Challenge to get businesses involved with our environment. This challenge invites employers large and small from across the state to partner with an ESNJ member or friend for an environmental project (projects are available in most counties). Once the project is complete, the team and site will be evaluated for overall scope and impact by panelists. The results will be tabulated and awards will be presented for Best Overall Challenge, Team Work, Spirit and more at EarthShare Celebrates NJ on June 18, 2021 at Knob Hill Golf Club! Each company participating receives 1 ticket to attend the celebration!
The 2021 list of project venues is being finalized. Check back often. When the list is posted below, simply select your venue and submit the reservation form with your commitment. Sites are not reserved until payment is received.
Each 3 – 4 hour volunteer event at a site you select includes water, supplies and guidance. The participation fee also includes a donation. Lunch can be added for an additional cost.
Please note: This year in an abundance of caution, we will be running the Green Day Challenge slightly differently in order to bring impactful volunteer experiences to all, in the safest way possible. Each participating site will be encouraged to social distance and permit no more than 10 volunteers at a time. If a company wants to participate with a group larger than 10, we are encouraging them to reserve one site and have a group of 10 for each of the morning and afternoon shifts. We encourage you to implement appropriate safety precautions and will provide you with any guidelines the participating project site has in place as well.
1 – 5 Employees $ 600
6 – 10 Employees $ 850
11 – 20 Employees $1,500
(

Groups of more than 10 can split into morning and afternoon shifts at the same site

)
To Register:
Fill out the below reservation form. Email the form to info@earthsharenj.org or mail to the EarthShare NJ office, 407 Greenwood Ave Suite 209 Trenton NJ, 08609. Payment may be made via check mailed to our office or may be paid online below. If you have any questions please contact info@earthsharenj.org or call (609) 989-1160 to register your team! Sites are not reserved until payment is received.
Registration Due Date:
March 21 for April 9
April 16 for April 30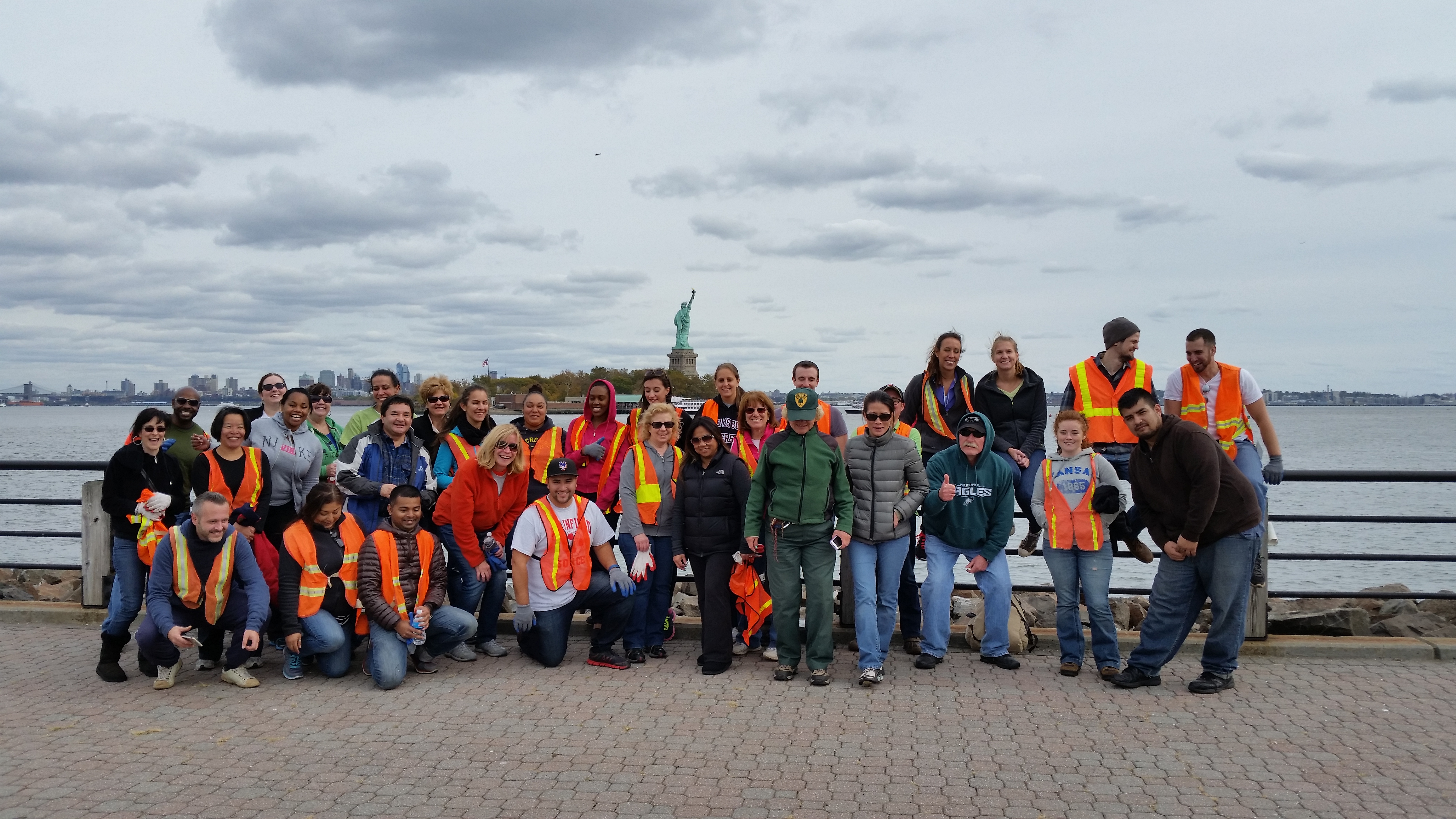 2021 Challenge Sites
The following projects have been developed specifically for the Green Day Challenge. All sites are hosted by a registered 501(c)3 organization that is affiliated with EarthShare NJ as a member or friend.
Check back often! Even more events to be added soon!
Bergen County Englewood 5-10 volunteers
This 150–acre facility is looking for volunteers to assist in trail maintenance, invasive plant removal and/or native planting.  Being located on the western slope of the Palisades provides an amazing backdrop for our work!
Bergen County Teaneck 5-10 volunteers
This project includes removal of invasive plants and trash from this 46-acre park. Volunteers should be comfortable with potentially getting dirty, bending, carrying trash bags and walking. Your efforts help clean up this beautiful park for the local wildlife and public to continue to enjoy!
Camden County Camden 5-10 volunteers
Volunteers will assist in the beautification of a temporary public art project that transforms sites formerly used for illegal dumping into grounds for public art and sculpture. These large-scale, outdoor art installations designed by nationally recognized artists will beautify neighborhoods and call attention to illegal dumping and its impact on the community and environment.
Artistic Gardening – Volunteers will participate in a gardening activity to beautify the space around the sculpture. The activity consists of painting discarded tires that will be upcycled into planters, and planting flowers donated to the project by a local florist.
Garden Preservation – Volunteers will weed and water the planters to help the garden continue to flourish. Volunteers should have experience with or interest in gardening and a willingness to work in dirt/soil at an appropriate social distance.
Cumberland County Bridgeton 5 volunteers
Volunteers will enjoy working in the organic community garden! The garden provides the mostly migrant, low income population of Bridgeton with access to healthy organic produce. The day could consist of greenhouse tasks, seed planting, working the compost pile, and cleaning and filling plant beds.
Essex County Newark 20 volunteers
Join us on the farm for a special project! Volunteers will build supports for trees in the fruit tree orchard. In addition, other available tasks may include weeding, planting, mulching and general farm activities to get the farm ready for the season!
Essex County Newark 10 volunteers
The Japanese knotweed is an invasive species that needs to be removed. Volunteers will help clear the area to allow for planting of native plants, which will help to feed and support the biodiversity and increase the flora and fauna that should naturally be occurring in the park.
Hudson County Secaucus 20 volunteers

Roll up your sleeves! Volunteers will walk the shoreline or aboard canoes for a big river cleanup in the heart of the Meadowlands, a vital estuary. Volunteers will be outfitted with gloves, bags and other equipment to comb the banks of the river with the goal of picking up as much trash and debris as possible.
RESERVED

Monmouth County Long Branch 5-10 volunteers

Pollinators are vital to maintaining our ecosystems! Volunteers will help pollinators to survive and thrive in an urban park by planting a butterfly garden. Come ready to tidy the area by clearing brush and small trees. Then volunteers will prepare the garden bed and plant the garden for the butterflies to enjoy!
Somerset County Bernardsville 10 volunteers

Come assist in the important maintenance of the rich landscape of this wildlife sanctuary, home to more than 60 species of nesting birds! For all of the below opportunities, volunteers should wear sturdy shoes and long sleeves and pants that can get dirty.
Blazing a Trail – One technique for removing harmful invasive species can be using controlled burns. Volunteers will help clear the property line to ensure the safety of surrounding areas in preparation for the 2022 controlled burns of invasive species.
Tree Planting – Help in the planting of 200-300 bare root seedlings across a field that will grow into a lush landscape of beautiful trees! When planting volunteers will cover the seedlings with 5″ tall white tubes to protect them from browsing deer so they can continue to grow.
Trail Maintenance – It is important to maintain trails in order to keep them safe and accessible for the over 4,500 visitors a year who participate in outdoor programs. Volunteers will assist in trail building and invasive plant cutting on the Post House Road access trail.
Invasive Species Removal – Invasive plants degrade wildlife habitat by crowding out the native plants that wildlife need for food and shelter. Volunteers will help control this problem by cutting invasive species along the Indian Grave Brook.
Union County Summit 5-10 volunteers

This historic botanical garden and stewardship center has a variety of projects for your consideration:
Support Our Vines: Building Vegetable Garden Arbors & Fences – When space is limited, build up! Vines take a lot of linear feet to fruit Help us rebuild our fence for the gourds to ramble on, and build new arbors using a variety of materials from cattle panel to natural branches found in the woods.
Historic Daffodil Bowl Planting – A springtime tradition, in late April thousands of daffodils bloom in a bowl-shaped glacial kettle that covers nearly an acre at this National and NJ Historic Site. Join us in planting additional bulbs in the bowl so the bloom can be as spectacular as ever!
Historic Daffodil Bowl Transplanting – Every few years, the daffodil display needs to be augmented with additional bulbs. Join us in transplanting additional bulbs in the bowl so the flowers can continue to bloom for the next season!
Hands-On Horticulture: Preparing the Gardens for 2021 Growing Season –Spring is a busy time of year as we transition towards the new growing season. Flower beds need raking, weeding, planting, edging, and mulching. Many hands make light work!
Invasive Task Force – Burning Bush, Kudzu, and Bamboo, oh my! These beautiful and valuable gardens and over six acres of native woodland habitat are under constant attack by invasive weeds. Help us weed out the worst of these botanical bullies.
Union County Linden 10 volunteers

Come discover Hawk Rise Sanctuary, a 55-acre wooded wetland located adjacent to the Rahway River. Volunteers will protect the wetland from invasive plants by using loppers and pruners to remove the invasive species off of fences, railings, and benches. Tasks will also include beautifying the area by cleaning interpretive signs and painting decals on plexiglass.
Since the introduction of this program in 2016,
25

teams have participated in the challenge.

375

volunteers have spent

1,504

hours cleaning beaches, blazing trails, hanging deer fencing, planting, mulching, removing waste, and more. The challenge continues to grow every year!
The 2021 Green Day Challenge will take place on
April 9th and April 30th, 2021

. Registration closes March 21st for the April 9th Challenge and April 16th for the April 30th Challenge

.

Get your 2021 Green Day Challenge Reservation Form HERE! If you want to participate with your team, contact

info@earthsharenj.org

to learn more and register!

Share: