EarthShare New Jersey
Green Day Challenge

April 8, 2022 & April 29, 2022
Are you up for the challenge?
EarthShare New Jersey (ESNJ) is hosting the 6th annual Green Day Challenge to get businesses involved with our environment. This challenge invites employers large and small from across the state to partner with an ESNJ member or friend for an environmental project (projects are available in most counties). Once the project is complete, the team and site will be evaluated for overall scope and impact by panelists. The results will be tabulated and awards will be presented for Best Overall Challenge, Team Work, Spirit, and more at EarthShare Celebrates NJ on June 3, 2022 at The Barn on South Holland! Each company participating receives 1 ticket to attend the celebration!
The 2022 list of project venues are being finalized. Check back often. When the list is posted below, simply select your venue and submit the reservation form with your commitment. Sites are not reserved until payment is received.
Each 3 – 4 hour volunteer event at a site you select includes water, supplies, and guidance. The participation fee also includes a donation. Lunch can be added for an additional cost.
1 – 5 Employees $ 600
6 – 15 Employees $ 850
16 – 25 Employees $1,100
26 – 40 Employees $2,100
41+ Employees negotiable
To Register:
Fill out the below reservation form. Email the form to info@earthsharenj.org or mail to the EarthShare NJ office, 407 Greenwood Ave Suite 209 Trenton NJ, 08609. Payment may be made via check mailed to our office or may be paid online below. If you have any questions please contact info@earthsharenj.org or call (609) 989-1160 to register your team! Sites are not reserved until payment is received.
Registration Due Date:
March 25th – for April 8th
April 15th – for April 29th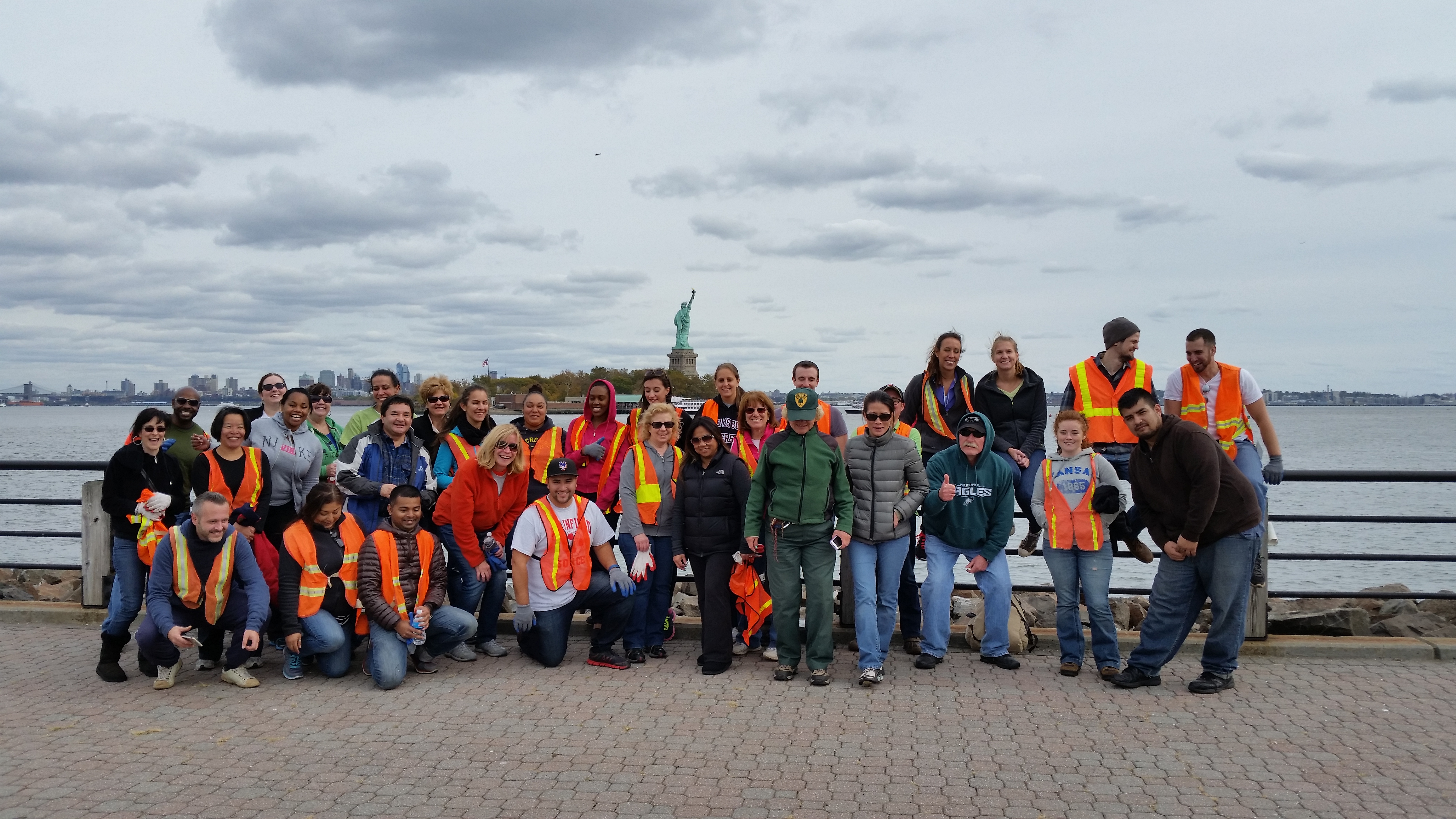 2022 Challenge Sites
The following projects have been developed specifically for the Green Day Challenge. All sites are hosted by a registered 501(c)3 organization that is affiliated with EarthShare NJ as a member or friend.
Check back often!
RESERVED 4/8 & 4/29 Bergen County Teaneck 16-25 volunteers
This project includes cleaning up harmful trash and installing new plants for this 46-acre park. Volunteers should wear long a shirt/pants with closed-toe shoes and be comfortable with potentially getting dirty, bending, carrying trash bags, and walking. Your efforts help clean up this beautiful park for the local wildlife and public to continue to enjoy!
Burlington County Medford 5-15 volunteers
This wildlife refuge is home to nearly 60 native wildlife residents! These residents stay in the refuge care because they have a permanent disability that prevents them from caring for themselves. The animals live in exhibits on the property so that visitors can learn about New Jersey wildlife. Help give the resident wildlife freshened up homes! Volunteers will paint the outside of enclosures and a cedar boundary fence.
RESERVED 4/29 Essex County Newark 5-25 volunteers
This project is all about urban gardening which provides environmental stewardship, fresh produce, and more to urban communities. There are no prior green thumb skills required as the staff will train and explain the whole way! Volunteers will also help with mulching, weeding, planting, and other farm activities.
RESERVED 4/29 Hudson & Bergen County Various 5-15 volunteers
Serviceable and safe public access to this watershed is important to environmental stewardship by giving people the unique opportunity to enjoy the water, see wildlife, and learn about the watershed from a whole new perspective. Volunteers are needed to help liven up three of the centers through multiple duties such as sweeping, raking, etc.
RESERVED 4/29 Hudson County Jersey City 16-25 volunteers
This park overlooking Lady Liberty is looking for volunteers to help beautify the area. The upkeep of the park landscaping depends on volunteers. Gather your team to assist in fertilizing trees and more while enjoying the amazing backdrop of the city skyline.
RESERVED 4/29 Mercer Trenton 5-25 volunteers
Working with urban agriculture staff on community or school garden clean-up or development, or working on vacant lot stabilization or park improvements with the Clean & Green crew. Typical work involves physical labor such as moving compost or wood chips, weeding, planting and/or trash pickup.
Monmouth County Highlands 26+ volunteers
Do you have a passion for cleaning up the environment? Then hit the beach! This project will include taking a walk down Sandy Hook to collect trash in order to keep the beaches clean and prevent litter from going into our oceans. Gloves, trash bags, and trash grabbers will all be supplied.
RESERVED 4/29 Monmouth County Wicatunk 16-26+ volunteers
Help this organization that is providing at-risk youth a chance to grow into their potential, prepare for camp! Volunteers are needed for various tasks to give campers a great place to enjoy, including clearing hiking trails, a campus clean-up, painting, setting items up, and more.
RESERVED 4/29 Morris/Sussex County Sussex City 5-15 volunteers
Help keep the trails safe and serviceable to the public along this beautiful, large freshwater lake. The trail maintenance done by volunteers will be guided by staff. The work put into the trails allows for surrounding communities to continue to enjoy the environment and open spaces.
Ocean County Point Pleasant 26+ volunteers
These 13 acres of forest, swamp, and salt marsh serve as wildlife habitats and are one of only a few protected open spaces in the area. The marsh has been disappearing at an alarming rate due to edge erosion. Volunteers will help with the construction and maintenance of branch-box breakwaters made out of recycled Christmas trees to help reduce erosive forces impacting the shoreline.
RESERVED 4/29 Ocean County Seaside Park 16-25 volunteers
This particular beach stretches for 10 miles between the Atlantic Ocean and historic Barnegat Bay with sand dunes, maritime plants, and diverse wildlife. Help keep the beach a beautiful ecosystem by participating in a beach cleanup! Volunteers may also have the opportunity to assist the organization with a snow fence installation and possible planting/garden cleanup at the Nature Center.
Somerset County Bernardsville 16-25 volunteers
Come assist in the important maintenance of the rich landscape of this wildlife sanctuary, home to more than 60 species of nesting birds!
Mucking Out a Vernal Pond – Every few years when the ponds are "dried up," we must remove the excess sediment so that the ponds don't fill in. Three to four people maximum for this activity, but can be done in shifts as well. Removal of excess sediment is important for several species of amphibians that only successfully reproduce in vernal ponds (ponds that dry up in the summer).
Blazing a Trail – One technique for removing harmful invasive species can be using controlled burns. Clearing firebreaks ensures the safety of surrounding areas during these controlled burns. Clearing firebreaks usually includes cutting a 10-foot-wide swath through Japanese barberry and multiflora rose.
Cutting Invasive Plants – Pull, dig, and cut are examples of methods used for controlling invasive plant species, such as Japanese barberry. This shrub, if not controlled, can change the landscape by choking out other native plants necessary for thriving wildlife habitat.
RESERVED 4/29 Trail Maintenance – This wildlife sanctuary welcomes over 4,500 visitors a year who participate in a variety of either indoor or outdoor programs. Many visitors come just to walk the trails, bird watch, or just enjoy the peacefulness of the sanctuary. Each year, the wood chip strewn trails require maintenance to restore the integrity of the trail and protect the dirt from erosion, especially after heavy rains.
Weeding and Transplanting Ferns – Ferns are native plants and have been planted and relocated throughout this sanctuary over the years. This weeding project is important because it allows the ferns to spread more, which gives them more of an advantage. Overall, ferns as a dominant plant species in targeted areas provide cost savings in time and labor as well as fuel (less need to mow). Ferns also have a dense, fibrous rood system that holds the soil, which provides erosion control. Ferns also provide habitat for wildlife including ground-nesting birds.
Union County Summit 5-15 volunteers
Historic daffodil bowl planting is a springtime tradition. In late April, thousands of daffodils bloom in a bowl-shaped glacial kettle that covers nearly an acre at this National and New Jersey Historic Site. This beautiful sight is enjoyed by the residents of Union County and beyond. Every few years, the daffodil display needs to be augmented with additional bulbs. Join us in planting bulbs in the bowl so that Daffodil Day can be as spectacular as ever.
Union County Summit 5-15 volunteers
Burning Bush, Kudzu, and Bamboo, oh my! Help us weed out the worst of these botanical bullies. Join this organization in its endeavor to recover from the pandemic. Invasive plants that went unchecked need to be removed! The historic plant collection has over 200 different native plants and over 400 species of rare and unique (non-invasive) plants that are under constant attack by invasive weeds. Join this invasive species task force to get the job done!
Union County Plainfield 5-15 volunteers
Help clean up your community! Explore this 6,200 acre park while helping to clean up mostly single-use trash. Participating in this clean-up not only beautifies the area for the community but also makes a difference in the ecosystem. Every piece of trash picked up equals one less item polluting the area and putting wildlife in danger.
Warren County Asbury 5-15 volunteers
Pollinators are important to maintaining our ecosystems and supporting biodiversity! Volunteers will help butterflies and bees to survive and thrive by preparing a pollinator garden. This will include spreading mulch, pulling weeds, planting new plants, removing/transplanting other plants, and providing other means of plant protection.
Warren County Port Murray 5-15 volunteers
Come assist with the various volunteer projects available at this 51-acre wildlife sanctuary!
Trail Maintenance – The trails frequently need maintenance to keep the paths accessible to visitors. Fallen branches and overgrown vegetation can obstruct the path, and trails need to be monitored to ensure they are in good condition.
Invasive Species Removal – Invasive plants degrade wildlife habitat by crowding out native plants that wildlife need for food and shelter. Some plants can be removed by hand pulling; others require a combination of hand cutting and herbicide application. Volunteers are needed to assist in hand cutting invasive plants.
Painting and Carpentry – The main Center and surrounding buildings need some cosmetic touch-ups from time to time. Many outside doors need to be re-painted or touched up. For anyone particularly handy, there are a variety of odd jobs inside the office building.
Pollinator Garden Maintenance – The pollinator garden needs weeding and pruning throughout the growing season. At times, there may be opportunities for planting as well.
Sinkhole Management – To ensure the safety of visitors, sinkholes need to be well market. This involves installing fencing around sinkholes.
Stream Clean-Up – The river and tributaries that run through the property and important features of the landscape for wildlife. Trash drifts downstream and washes up on the banks creating hazards for birds, turtles, fish, and other species that use the stream. Help is needed to walk the trail along the stream, picking up any litter found around the water.
Since the introduction of this program in 2016, over
25

teams have participated in the challenge. Over

375

volunteers have spent over

1,504

hours cleaning beaches, blazing trails, hanging deer fencing, planting, mulching, removing waste, and more. The challenge continues to grow every year!
The 2022 Green Day Challenge will take place on

April 8th and April 29th, 2022

. If you want to participate with your team, contact

info@earthsharenj.org

to learn more and register!