Property owners and developers are increasingly focused on designing structures that will accommodate solar energy. Since Governor Phil Murphy unveiled New Jersey's Energy Master Plan in early 2020. This plan established one of the most ambitious state renewable energy goals in the country by requiring 35% of the energy sold in the state come from qualifying energy sources by 2025 and 50% by 2030. The plan also mandates that 5.1% of New Jersey renewables come from solar energy by the end of 2021.
Engineers, architects, and developers stay can stay ahead of the curve with a few guidelines that allow for maximum solar energy efficiency and utility cost savings.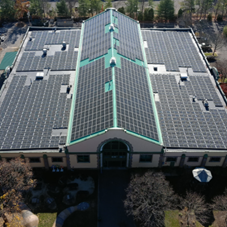 1. Design
A Southern exposure with maximize solar energy performance.
HVAC units should be placed so as not to obstruct or cast shade on solar panels and keep the arrays connected. HVAC lines should be routed closely together to increase efficiency and allow for a larger solar array.
If a Southern expose is not possible, plan fo low-tilt ballasted PV arrays in an Eastern or Western orientation.
Consult with a landscape architect to ensure that new and existing plantings will not overgrow or cast shade on the solar arrays.
2.Roofing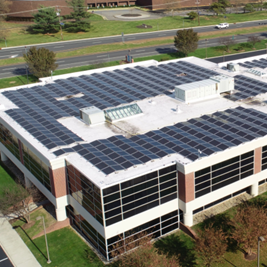 Mounted solar ballasting does not penetrate the roof. However, be aware that ballasted systems can add up to 3 – 6 lbs. per square foot.
When possible, use sustainable roofing products and check load guidelines for solar arrays that use ballasted and other racking systems.
Be aware that ballasted systems can add up to 3 – 6 lbs. per square foot.
Multiple solar arrays (broken due to obstructions) will add more weight per square foot.
According to International Building Code, live loads can be removed from loading calculations where a solar array is installed.
Be sure to coordinate the roof and solar warranties and make sure one doesn't cancel out the other.
3. Electrical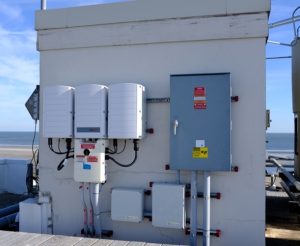 The electrical engineer should include at least one inverter which converts direct current (DC) electricity, which is what a solar panel generates, to alternating current (AC) electricity, which is used by the electrical grid.
Design the electric box with specific breakers for the solar energy systems.
Design a specific room for the inverter(s) or make sure the inverter type is rated for outdoor use.
Geoscape Solar works with a variety of LEED Architects and Green Development Firms that help property owners design with solar and other sustainability features in mind. We offer $0 down financing options as well as state and federal incentives that can pay for up to 70% of your installation costs. Solar has a guaranteed ROI and protects your property from unpredictable utility hikes.
To discover more about the benefits of sustainable building and construction, join us for our Earth Day Webinar on April 21 at 1PM: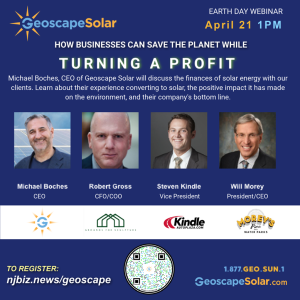 How Businesses Can Save the Planet While Turning a Profit
Or contact us at: 1.877.GEOSUN.1 or GeoscapeSolar.com
Submitted by Guest Blogger: Irene Heifetz, Geoscape Solar Marketing Director