PVH Cares + EarthShare NJ = A Brighter Future
Individuality, passion, partnership, integrity and accountability are the core values at PVH Corp. It's no surprise that the parent company of Calvin Klein and TOMMY HILFIGER encourages its associates to practice these values by creating positive impacts in the communities where they work and live. Supported by The PVH Foundation, PVH Cares provides associates with the opportunity to cultivate and grow these values through volunteering, gift matching, and a space to receive or give recognition. The PVH Foundation also provides financial support for associate-run Community Involvement Committees (CICs) that partner with local non-profit organizations such as EarthShare NJ.
PVH associates in the U.S. can take advantage of the 48 hours of paid time off per year to volunteer. The PVH Bridgewater, NJ office associates are most passionate about working outside and taking care of the environment, so it's no surprise that they partnered with EarthShare NJ. A small volunteer team, part of PVH's CIC, organizes monthly volunteer opportunities around the beautiful Garden State, as well as offering virtual educational "Lunch Time Bites" webinars.
More than a decade-long partnership with EarthShare NJ has given PVH associates a space to learn, grow, and create positive and lasting change in their communities. PVH teams are cleaning up trash from the Jersey Shore, rivers and parks. They beautify state park gardens, plant bulbs, clear hiking trails and build walkways along nature trails. The impact of these efforts are great if you consider the millions of visitors a year to our beaches and state parks as well as the thousands of animals and insects that call NJ home. These outings bring together associates from various departments within PVH, some volunteers meeting for the first time. Teams can use this time for bonding and skill building events. Tapping into new skills, PVH associates work hard as a team since they share the same passion to help the environment.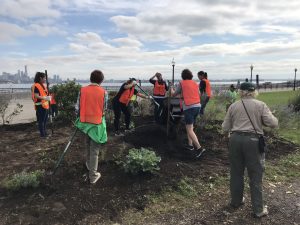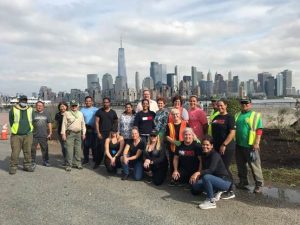 Bulb planting in the fall and garden maintenance in the spring at Liberty State Park is one of the team's favorite events.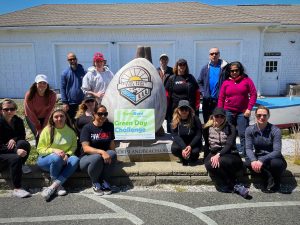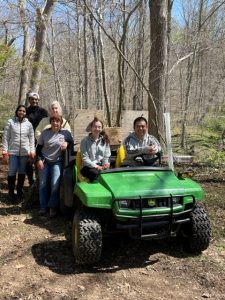 Beach clean ups at Island Beach State Park and trail maintenance at Scherman Hoffman Wildlife Sanctuary of the New Jersey Audubon Society are always a huge success!
Hackensack River Clean up, Flat Rock Nature Center Trail Maintenance and Monmouth County Beach Clean Up are on the list of associate favorites too.
We all know, many hands can get a job done, but, financial support can always do more. The PVH Foundation provides associates opportunities to request grant funds for local nonprofit organizations in their communities. Volunteering plus financial support allows PVH Cares to complete that equation. Generosity of time and money lets PVH associates put the company values into action, taking care of our environment and creating a brighter future in our NJ communities with the irreplaceable partnership of EarthShare NJ.
CIC EarthShare NJ Team – Maggie Sheehan-Mnych, Rachel Keaveney and Amanda Bleka
2022 PVH Care & EarthShare NJ Events:
Scherman Hoffman Wildlife Sanctuary, Bernardsville – Trail Maintenance Project
Island Beach State Park, Ocean County – Beach Clean up
Flat Rock Nature Center, Englewood – Trail Maintenance
Hackensack River Clean Up – water and river bed clean up in canoes
Monmouth County Beach Clean Up – Beach Clean up
Planting At Liberty State Park – bulb planting, garden clean up
PVH will host Lunch Time Bites webinars –
Rain Gardens, Can You Dig It?
Sustainable Building & Landscaping Practices
Healthy Cooking Demo
Protection & Preservation of NJ Wildlife