Family Friendly Eco-Cruise Gets Seal of Approval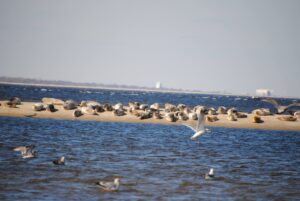 It's a frigid Saturday morning in January as you slowly wake up and make your daily cup of coffee. You look out your window and see a thin layer of frost along the grass quickly melting away from the rising sun. It's cold outside but you see that the sun will be shining all day and you're looking to leave the house for a little while. Lucky for you, your local coastal conservation non-profit, The American Littoral Society, and the Seastreak ferry have teamed up to offer an eco-cruise every Saturday of January through March! You think to yourself, a ferry ride in the middle of winter, what am I going to see?
Aboard the Littoral Society led eco-cruises you are destined to see a diverse list of wildlife as we set sail out onto Sandy Hook Bay towards Coney Island. One of the favorite creatures to spot out in our local bay, are the water dogs…aka the seals! We can typically see three types of seals: harbor seals, harp seals and gray seals. These round marine mammals travel down to our New Jersey waters at the start of the winter season and stay up until April sometimes. They love to lay out on exposed rocks and sand bars to bask in the sun, otherwise known as "hauling out". Seals need to spend many hours lying in the sun to warm up, rest and digest their food. If we get lucky, we will see them hauling out and swimming around in the bay.
We also have an array of wintering birds and ducks that enjoy spending their time floating on the waters of the bay, marsh, and ocean in New Jersey when the brisk winter months are upon us. These winged creatures vary from our smallest diving duck in North America, the Bufflehead, all the way up to a large dabbling duck, The American Black Duck. When we are out on the eco-cruises with our binoculars glued to our eyes, we have tricks on how we identify the creatures at a distance. First, we like to watch to see if the duck is diving under the surface of the water for food or simply dabbling, otherwise seen as tipping their butts up toward the sky. Another key indicator to lower the potential choices is whether the duck is exploding off the surface of the water when they take flight or if they need more of a running start similar to an airplane.
Another great way to identify birds and ducks is by their markings, coloration, bill size and overall plumage. We discuss these at length during our eco-cruises as well as fun facts about each creature we spot. A few of our favorite facts are as follows: Hooded Mergansers have a clear third eyelid that allows them to see underwater, as if they are wearing goggles. Red Breasted Mergansers can reach speeds of up to 81mph. Common Loons got their name because of the clumsy way they walk on land due to their legs being placed so far back on their bodies. When you join us on the Eco-cruises you will learn many more fun facts as well as train your eyes to spot these different birds, ducks and seals.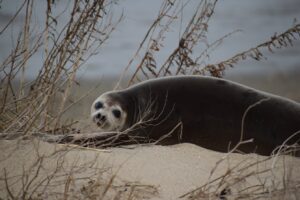 At the American Littoral Society promotes the study of conservation of marine life and habitat, protects the coast from harm, and empowers others to do the same. Our main programs that we focus on are Education, Advocacy and Conservation. We educate people from all around the state of NJ, NY and beyond. Our advocacy efforts have helped to protect waterways, fought for public access to all at the beach, supported the mitigation of carbon pollution and adaptation to the impacts of climate change and many more important issues. Our restoration efforts cover beach replenishment for Horseshoe crab populations, reef building from recycled oyster and whelk shell, opening waterway
passages for fish to reach freshwater and countless other projects. Additionally, we have the largest volunteer fish tagging program in the United States.
Our organization is constantly working to protect our marine environment and we couldn't do it without the support of the people around us. A few of the many ways you can continue to support the Littoral Society by joining our organization as a member, spreading the word about our programs, attending our educational events, tagging fish with us, and volunteering. Seal you this winter out on the water!