*UPDATE Sept. 2020: The EarthShare NJ 2020 Green Day Challenge is canceled. Thank you for your understanding. If your team is interested in setting up a separate volunteer event, please contact us at info@earthsharenj.org or 609.989.1160. Until then, look forward to joining us for the next Challenge in 2021.
*UPDATE April 2020: Due to COVID-19, rescheduled to

September 18th
EarthShare NJ
Green Day Challenge

Check back often! An updated list of events for the rescheduled date to come!
Are you up for the challenge?
EarthShare New Jersey (ESNJ) is hosting the 5th annual Green Day Challenge to get businesses involved with our environment. This challenge invites employers large and small from across the state to partner with an ESNJ member or friend for an environmental project (projects are available in most counties). Once the project is complete, the team and site will be evaluated for overall scope and impact by panelists. The results will be tabulated and awards will be presented for Best Overall Challenge, Team Work, Spirit and more at EarthShare NJ's Earth Care Day on October 4th at Cheesequake State Park!
Following is a list of project venues to choose from. Simply select your venue and submit the reservation form with your commitment. Sites are not reserved until payment is received.
Each 3 – 4 hour volunteer event at a site you select includes water, supplies and guidance. The participation fee also includes a donation. Lunch can be added for an additional cost.
1 – 5 Employees $ 600
6 – 15 Employees $ 850
16 – 25 Employees $1,100
26 – 40 Employees $2,100
41 + Employees negotiable
Contact programmanager@earthsharenj.org
or call (609)989-1160 to register your team!
Registration Due Date: September 1, 2020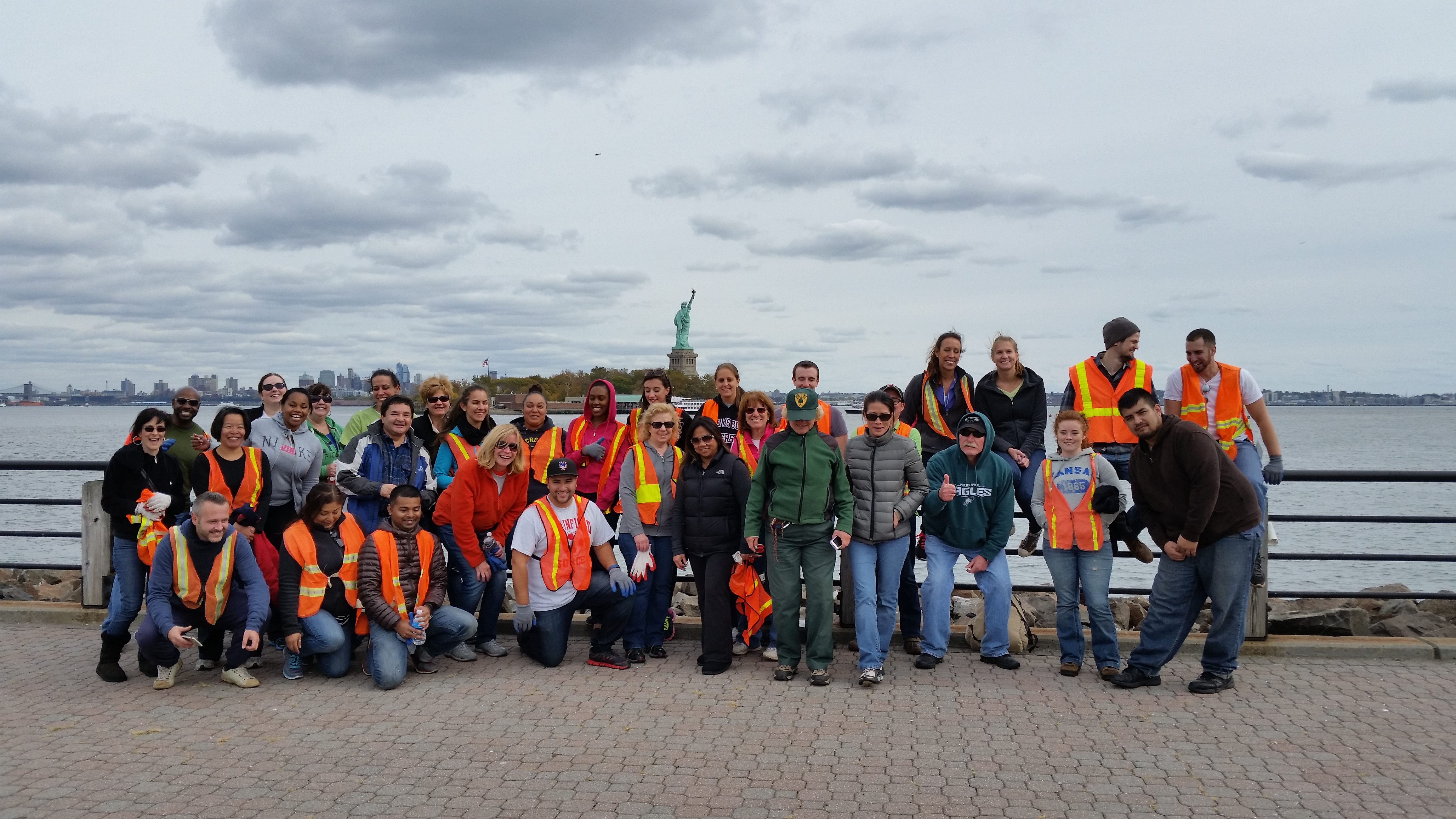 2020 Challenge Sites
The following projects have been developed specifically for the Green Day Challenge. All sites are hosted by a registered 501(c)3 organization that is affiliated with EarthShare NJ as a member or friend.
Check back often! Even more events for the rescheduled date to be added!
Bergen County Franklin Lakes 5-20 vols
This 14 acre sanctuary provides numerous challenge opportunities. Chose one for your team.
Trail Maintenance – With 1 mile of public walking trails, there is regular cleaning to keep them safe and easily accessed. This project, for a group of 5-6, includes re-blazing the trails, checking and replacing liner branches along each side of the trail. There may also be a need for a larger group to reapply fresh surface materials so that the paved trails continue to be wheelchair friendly. Activity level is moderate.
Deer Fence Maintenance – 11 acres of the sanctuary are protected from deer with an 8 ft fence. A native habitat restoration project is being conducted within the fenced area. Volunteers will walk the fence line (approx. 3000 ft.), remove downed tree limbs, and report any physical damage to the fence, posts or gates that will be noted and fixed. Activity level is moderate.
Driveway Maintenance – Volunteers will assist with re-surface of the drive way with 10-12 tons of new stone, filling in potholes, and cutting back vegetation and branches. Activity level is moderate to strenuous.
Removing Invasive Plant Species – Help us remove invasive species of plants such as garlic mustard, Japanese barberry, Norway maple, etc. These invasive plants offer little food and shelter to local wildlife and birds. By removing these plants, we can then replant those areas with bird and wildlife-friendly plants. Activity level moderate.
Bergen County Oakland 5-15 vols
Volunteers will help clean up beautiful Ramapo Mountain State Forest overlooking the NYC skyline and Ramapo Lake.
Forest Restoration – Save the chestnut oak forest plant community trees from being strangled by invasive vines by cutting them with loopers to free the tree canopy. Activity level is moderate.
Meadow Restoration – Remove invasive grasses and vines that are threatening rare and endangered plants in the wildflower meadow.
Cape May County Cape May Up to 50 vols
This popular nature center has several projects for consideration.
Aquatic Laboratory – A team of 8 volunteers could work in this space. Working on displays and preparing them for the spring and summer season!
Story Walk Maintenance – A story walk is a book-guided natural trail situated around a property by dissecting a book and placing the laminated pages on sequentially numbered boards. A team of 4-6 people will be preparing and updating the display boards.
Welcome Center Makeover – Help give the welcome center a fresh update for guests by painting the Education Hall and restrooms. The "please touch" room also needs deep cleaning.
Center Yard Work – There is always plenty of general property maintenance needed. This includes grass cutting, pruning, invasive species removal and more.
Cape May County North Cape May 16-25 vols
This Bird Observatory needs your help to prune back and remove growth along the 5 different trails and conduct beach cleanups. Activity level is moderate.
Cumberland County Bridgeton 5-15 vols
Volunteers will enjoy working in the organic community garden! The garden provides the mostly low income population of Bridgeton with access to healthy organic produce.
Essex County Newark 26+ vols
Set in the nation's first county park, volunteers support a variety of tasks that include removal of invasive species, planting, pruning, watering, mulching and tending to the soil.
Hudson County Secaucus 26+ vols


RESERVED – AM
Join us for a cleanup of the river bank and surrounding area! Volunteers will comb the banks of the Hackensack River, picking up trash and debris.
Mercer County Trenton 5-15 vols
Volunteers will be weeding, mulching, and preparing the brand new community garden for spring. This garden will provide exciting new programs such as, teaching children with an engaging outdoor educational experience on growing fruits, veggies, and living a healthy lifestyle.
Mercer County Trenton 5-20 vols

RESERVED
Work with the Urban Agriculture staff on community or school garden improvement or development. This may involve moving wood chips, weeding, and planting. The garden helps foster a healthy and sustainable community.
Monmouth County Atlantic Highlands 5-25 vols
Help us remove invasive species. There will also be weeding and trail maintenance around the pond and the front of the house on this preserve. Volunteers will be clearing/moving brush to the brush pile using wheelbarrows.
Somerset County Bernardsville 16-25 vols


RESERVED – 1 team AM
Over 4,500 visitors are welcomed at this facility each year, and there are a number of projects in need of attention. Some of the projects are more strenuous than others, so we've defined that for you as well.
Mucking out a vernal pond – strenuous – Every couple of years when the ponds are "dried up" we need to remove the excess sediment so that they don't become filled in. Three or four people are the max for this activity, but it can be done in shifts along with one of the other projects we have to offer.
Clearing firebreaks – strenuous – pull, dig and cut are examples of methods used for controlling invasive species such as Japanese Barberry. 3-5 volunteers will be clearing fire breaks by cutting a 10′ wide swath through the Japanese barberry and multiflora rose.
Trail Maintenance – moderate – Many visitors come to walk the trails , do bird watching or just enjoy the peacefulness of the sanctuary. 3-5 volunteers will do weeding and transplanting to keep these trails clear for visitors.
Weeding and transplanting ferns – light to moderate – ferns are native plants and exist throughout the sanctuary. Weeding is important as it allows greater spreading of the ferns and creates a wider habitat for wildlife including ground nesting birds.
Cutting Invasive Plants – moderate to strenuous – If not controlled, this shrub can change the landscape by choking other native plants that are necessary for a thriving wildlife habitat.
Sussex County Landing 5-15 vols


RESERVED

– AM
Volunteers will assist with weeding, shoveling, mulching and planting.
Warren County Port Murray 5-25 vols
This stewardship center has a variety of projects for your consideration:
Trail Maintenance – Keeping the paths accessible to visitors is a priority. Fallen branches, overgrown vegetation and displaced trail paths all need attention in the spring. Activity level is moderate.
Invasive Species Removal – Invasive species degrade wildlife habitat by crowding out the native plants that wildlife need for food and shelter. Volunteers are needed to assist in cutting invasive plants.
Painting and Carpentry – the surrounding buildings need some cosmetic touch ups to make the property the best it can be!
Pollinator Garden Maintenance – This important garden needs weeding and pruning throughout the growing season.
Sinkhole Management – to ensure the safety of visitors, the sinkholes need to be well marked. This project involves the installation of fencing around sinkholes.
Birdhouse building – Volunteers will help build birdhouses as a place to stop and perch for the beautiful bluebirds that frequent the property.
Stream Clean-up – Trash drifts downstream and washes up on the stream banks creating a hazard for birds, turtles, fish, and other species. Help is needed to walk the trail along the stream, picking up any litter found around the water.
Since the introduction of this program in 2016,
25

teams have participated in the challenge.

375

volunteers have spent

1,504

hours cleaning beaches, blazing trails, hanging deer fencing, planting, mulching, removing waste, and more. The challenge continues to grow every year!
The 2020 Green Day Challenge will take place on
September 18, 2020

. Registration closes September 1, 2020. Get your 2020 Green Day Challenge Reservation Form HERE! If you want to participate with your team, contact

businessmanager@earthsharenj.org

to learn more and register!

Share: