Morgan Berman, CEO of MilkCrate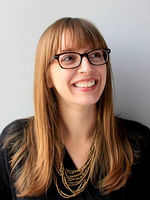 Born and raised in Philadelphia, Morgan is a multidisciplinary designer whose mission is to promote sustainable design and weave it into the fabric of daily life. She is the CEO of MilkCrate, a directory tool that connects people to local, green businesses. The tool took off in Philadelphia and is still expanding to U.S. cities far and wide.
She completed her Masters of Science in Sustainable Design at Philadelphia University, where she focused on interactive and industrial design within the broader context of sustainability. Prior to her work as a sustainability advocate and designer, she worked as a researcher at the University of Pennsylvania and as an educator/advocate in women's health.