Reinforce your company's commitment to our environment
The EarthShare New Jersey corporate partnership program connects businesses committed to making a difference in our environment with the non-profit community that is working to make this happen. This partnership offers many benefits to help a company achieve its corporate social responsibility goals while engaging the company and its employees in various environmental experiences. The result broadens awareness of and responsiveness to environmental issues in New Jersey and beyond. Corporate partnership is as much of a resource for your corporate sustainability program as for your employee engagement initiatives.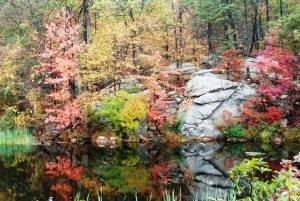 "EarthShare New Jersey is an exceptional organization that is committed to bringing business and the community together to protect our environment, preserve our natural resources and promote a sustainable economy. New Jersey Natural Gas is proud to share this commitment and support the important work of EarthShare New Jersey. Together, we are helping to create a stronger, healthier and greener tomorrow for future generations."
-Thomas Hayes – Director of Customer and Community Relations, New Jersey Natural Gas
Benefits of Partnership
Recognition as a corporate partner on the EarthShare New Jersey website
Use of the EarthShare New Jersey Partner Logo (strict logo usage guidelines apply)
Access to expertise in environmental engagement
Opportunity to participate in "Featured Partner" social media promotions
Admission to EarthShare New Jersey events

2 tickets for the Earth Day Leadership Breakfast
2 tickets for the Harvest Luncheon
2 tickets for EarthShare Celebrates New Jersey

Preferred member rates for tickets/events
Advanced choice of Green Day Challenge Sites – 1 month before public announcement
(additional cost to participate in Green Day Challenge)
Cost of Partnership

Payment is not due until an applicant is accepted as a partners. Cost is based on the total number of employees.
1 – 99 employees $ 500
100 – 499 employees $ 750
500 – 999 employees $1,000
1000+ employees $2,000
Ready to Apply?
Submitting a partnership application is easy! The fillable pdf is accessed here and asks you to provide basic information about your company. Once the application is completed e-mail it to paldarelli@earthsharenj.org. Applications are reviewed monthly so you will be notified within 60 days of the application status.
Need more information?
If you're not quite ready to apply yet, but interested in learning more, click here to let us know. Fill out a quick form to share your interest and an ESNJ representative will get back to you shortly to help to answer any questions you may have, and explore our options together!