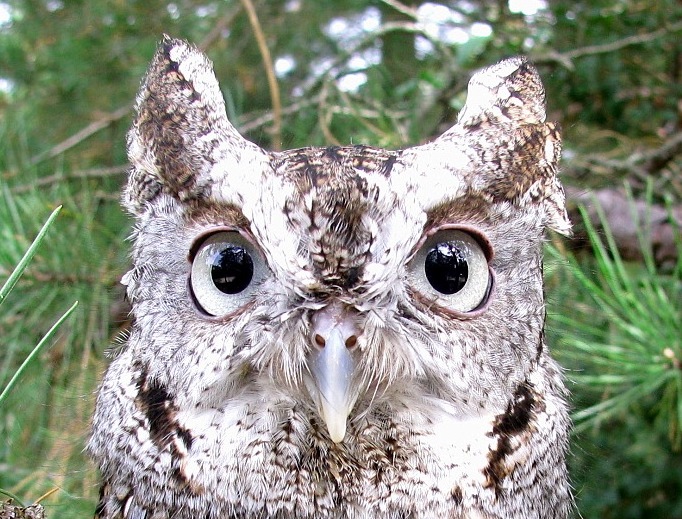 EarthShare New Jersey has had the pleasure of working with Cooper Pest Solutions, a progressive pest control company located in Lawrenceville, New Jersey. As a corporate partner in our workplace giving campaign, Cooper's employees make payroll contributions to their favorite environmental charities. The workplace giving campaign is a wonderful way to increase employee satisfaction while contributing to the enhancement of our natural surroundings and quality of life. 
On January 29th we visited the Cooper Pest Solutions annual meeting and workplace giving kickoff event with our member organization Woodford Cedar Run Wildlife Refuge. The organization brought two very special guests, barn and screech owls named Otus and Squam, to meet the Cooper team. What a hoot had by all!
We recently interviewed Phil Cooper, President of Cooper Pest Solutions, about his relationship with ESNJ and why he supports a cleaner and greener New Jersey. Phil has served on the EarthShare New Jersey Board and Executive Board since July 2013.
What inspired you to rally the employees behind the EarthShare NJ mission? 
Our corporation is committed to being a steward of the environment and has been for over two decades. Rick Cooper, Vice President of Cooper Pest Solutions, has been an ardent supporter of the New Jersey Environmental Federation, and as a corporation we have supported its initiatives for years.  EarthShare New Jersey provides Cooper with the platform to show its commitment ensuring that we have a sustainable environment in New Jersey.
This year, some very special feathered friends attended your annual meeting. Tell us about how your employees enjoyed the experience and a few things they learned about owls. Was is it a hoot? 
The owls were rock stars at the meeting and yes, they were a hoot. From what I gather, when our band Coop and the Stink Bugs rocked out so did the owls! Having the owls appear at our meeting added flair and excitement while drawing attention to the best that New Jersey has to offer. We'd love to have the owls join us again next year and if we get the chance we would integrate them more into the meeting.
How does your business benefit from participating in a workplace giving campaign? 
Workplace giving provides an easy point of access to each of our teammates to make charitable contributions. By doing it as part of their job, it becomes part of their routine and makes it into a manageable expense. EarthShare NJ's Executive Director Paula Aldarelli provides us with whatever we need to ensure the success of the campaign, whether it be a kiosk at our annual meeting, links to the giving website or reporting on how our workplace giving campaign is performing.  She also provides access to other charities that we wish to include in the program. I truly believe the workplace giving campaign is our chance to highlight the environmental causes in New Jersey and it's a wonderful platform to do so.
Are there certain environmental groups in the ESNJ family that you and your employees connect to?
The Clean Water Fund and the New Jersey Environmental Federation (NJEF) have been close with Cooper for years. Our relationship with Jane Nogaki, founding NJEF board member and Pesticide Campaign Coordinator, has developed over the last 20 years.  I personally worked with Jane on many different issues to find common ground between my pest management industry and the positions taken from an environmental perspective.  While we do not always agree on all of the specifics, we always agreed on the basic message or purpose and find ways to come up with solutions that benefit everyone involved.
Why is Cooper's bat removal service applauded by Conserve Wildlife Foundation of New Jersey? How do you think you'll collaborate with the organization in 2014? 
Bats play such an integral part of the eco-system and we have been looking for environmentally sound ways of approaching them.  I am first learning of the Conserve Wildlife Foundation of New Jersey and their bat removal services.  I am excited about the opportunities the Foundation will afford and our ability to promote bat health in New Jersey to our customers and others.  I truly believe the only boundaries are the limits of our creativity.  I look forward to working with Conserve Wildlife Foundation and being a model for the state and perhaps the nation.
How can you and your employees influence others to give back?
My mother and father taught me the importance of giving back. My father was a Rotarian and one year after joining Cooper Pest Solutions in 1984, I also became a Rotarian. Being part of a Rotary exposed me to the countless causes throughout New Jersey and the world that need help.  It also instilled in me our responsibility as corporate citizens.  Over the years I was able to extend this to my passion to help organizations working to find a cure for Multiple Sclerosis. I have raised over $250,000 for the cause. This was taken to another level when I rode my bicycle cross country in 2012, with the Bike the US for MS team. I was able to rally my pest management industry around this cause and raise awareness. What has brought me so much joy is the recognition I have received from NJBIZ as the 2013 Corporate Citizen of the Year, which honored me and the Cooper Pest Solutions team for our pursuit of being great corporate citizens.  I truly believe as great citizens we have a responsibility to promote diversity , raise awareness for causes, and help those in need.
EarthShare New Jersey is a perfect alignment of raising awareness for causes and allows us to not only promote a healthy environment, but also to raise funds to support the activities vital to a healthy environment.  Being asked to serve on the EarthShare New Jersey Board and Executive Board is a great honor and responsibility.  It is through ESNJ that I am able to show my commitment to a sustainable environment and show how a pest management company can be environmentally responsible.
Learn how your company can give a hoot about NJ's environment
If your business would like more information on becoming a corporate partner, contact Paula Aldarelli at 609-989-1160 or paldarelli@earthsharenj.org. Follow us on Facebook and Twitter for updates on workplace giving, volunteerism and special events.
DID YOU KNOW? FUN FACT
While Barred Owls are common throughout North America, they are considered a threatened species in New Jersey. They are common in wetland forests and can often be heard vocalizing during dawn and dusk.  Eastern Screech-owls are found throughout eastern North America and common in New Jersey. They are a cavity nesting species and use holes in large trees for nesting. There are three color variations, red, grey and brown. 
 Barred owl photo courtesy of Woodford Cedar Run Wildlife Refuge
Comment using Facebook